Against, Beside, Above, and Beyond


Organized with Josephine Shokrian and Lulu Wolf
January-May 2016

Haeler Echo
185 East Broadway
New York, NY 1002

Featured artists:
Katarina Burin, Julia Crockett and Group, Alan Gutierrez, Lia Lowenthal, Carter Mull, Sara Magenheimer, Pooneh Maghazehe, Mary Manning, Gloria Maximo, Sophie Stone, Ben Vida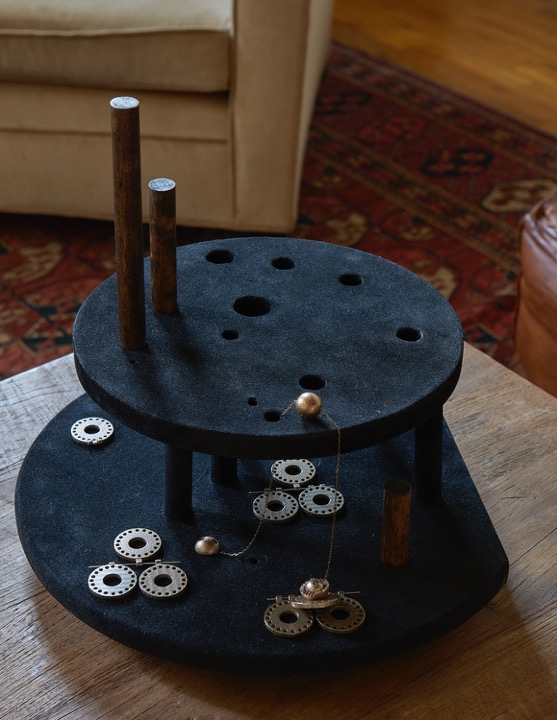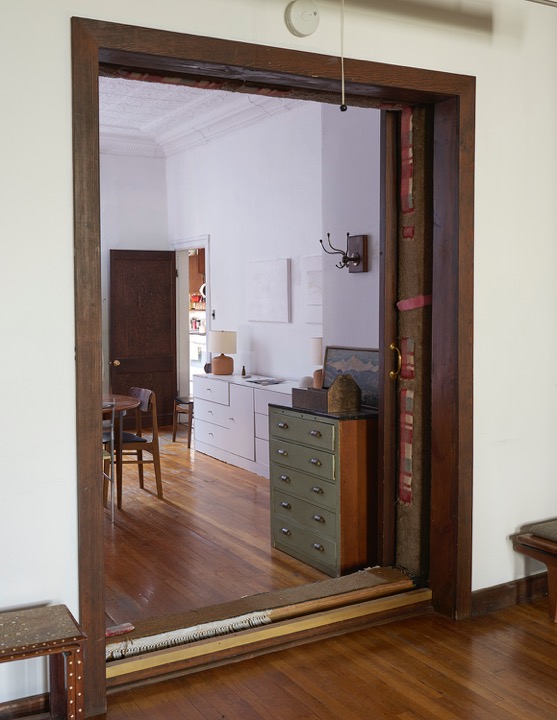 Haeler Echo | SEASON 02 "Against, Beside, Above and Beyond" stages an ongoing scenography within the domestic interior. Works installed at Haeler Echo intervene in the familiar fabric of the living room, the dining room, the bedroom, and the kitchen. Their dispositions produce renewed encounters between objects and bodies and reorient the function of pre-existing furnishings and decor. This scenography gives way to an other space, one of mutual reverberation where the presence of the work has an evolving effect. Recognition of these interactions is encouraged through selected readings and discussions, and through presentations (screenings and talks) which often reveal, as Derrida writes, cooperation from the outside.
Events
Open House Sunday, April 10, 2016 1-6pm

Works by Gloria Maximo and Carter Mull, installed earlier in the season, continue to be on view.
In the dismantling of form and content, integral structural elements and decorative, more incidental elements remain co-present. In the space of their co-presence, their weaving together, their folding in and enfolding, we may come undone, disoriented, forget how to use things. Or we may build new vocabularies of use and gesture, of style, of setting. OPEN HOUSE, the third event of Season 2: "Against, Beside, Above and Beyond," invites actors to assemble in this domestic scene. There is no set schedule to the day. Guests are welcome to stop by at any time, stay for as long as they wish, and participating on any level.

The OPEN HOUSE encourages prolonged and expanded engagement with new artworks by Lia Lowenthal, Pooneh Maghazehe and Sophie Stone, in an intimate context. The day considers different unscripted activities in a space of mutual reverberation. Self-organized and group study sessions may occur organically. By this we mean, talking and walking around with other people, working, dancing, suffering, some convergence of all three, collected under the name of speculative practice (Fred Moten and Stefano Harney on "study," The Undercommons). Reading and discussion of a selection of texts chosen by the artists may take place independently or in groups spontaneously and/or continuously. Other activities may include the screening of a short film, listening and writing sessions, demonstrations by the artists, arranging flowers, cooking and tea-making. OPEN HOUSE stages an ongoing scenography in the living space, around and with works of art, by cultivating atmosphere, attention, and conversation in a variety of directions.

Speech Acts
Sunday, April 17, 2016 7pm

Featuring Sara Magenheimer, Alan Gutierrez, Ben Vida and Mary Manning.


Sara Magenheimer
Hearing voices = you're crazy
Not hearing voices = you're crazy
Notes on Voice

Hearing Voices... is a talk which catalogues the modes of voice used and observed in the world, interweaving Magenheimer's relationship to her own voice with cinematic uses of the voice.

Alan Gutierrez
Untitled (intermission #1)

Untitled (intermission #1) is a monologue delivered with the intention of setting the stage. This happens in-between other works, while the lights are on- exposing the existing architectures.

Ben Vida, performed with Mary Manning
Speech Acts

Speech Acts are a collection of proposals for duo vocal performances. They are also the platform from which a number of works in different mediums have been produced (including single channel video and works on paper and panel). These pieces push the textual into the textural as the tempos, accents and rhythms of the language begins to take priority over linguistic meaning. Inspired by the graphic and typographical gestures of concrete and sound poetry, as well as the formal structures of Samuel Beckett's dramatic works, the visual language of these pieces blur the line between text and image — at times obscuring the verbal significance of the language in order to foreground visual and sonic affect and impression. In a sense Speech Acts are a conversation between two characters who may or may not be the same person. While one voice struggles to communicate in simple terms, the other voice plays the ever slipping roles of stage direction, sub-text, inner dialog and autonomous narrator.


Katarina Burin on Janette Laverrière
In conversation with Lia Lowenthal
Tuesday, May 17, 2017 7pm


Vivian Rehberg: Is there a link between utility and uselessness?
Janette Laverièrre: Of course. It's useful to have useless things. (1)


Please join us for a talk by Katarina Burin on the work of Swiss-born, naturalized French artist and designer, Janette Laverièrre (1909-2011). Burin will discuss the Laverièrre's career between specialized design and art object and her commitments to the narrative, poetic, and political dimensions of design objects. A conversation with artist Lia Lowenthal, whose work is currently on view at Haeler Echo as part of our program's second season "Against, Beside, Above, and Beyond" will follow.

(1) "Use & Value," Interview with Janette Laverrière, Frieze, March 2009
Closing ScenesSunday, May 22, 2016 6pm

Featuring Félicia Atkinson, Julia Crockett & Group with an original score by ARP/Alexis Georgopoulos, and Alina Tenser.




CLOSING SCENES takes place over the course of a single evening, encompassing performance, installation, sound, food, and drink. A potluck dinner is provided by Haeler Echo, Season 02 artists and the evening's attendees (you!), and a special cocktail designed by Arley Marks is dispensed from a water cooler. Works by Lia Lowenthal, Pooneh Maghazehe, Gloria Maximo, Carter Mull, and Sophie Stone, installed earlier in the season, remain on view.

CLOSING SCENES is the culmination and closing event of Haeler Echo's second season, "Against, Beside, Above, and Beyond." It is the final act in a layering of scenes, which explored concepts of architecture and a scenography of a space in its many physical and conceptual forms, from site, building, exterior, interior, form, and object, to mind, voice, sight, body,and gesture, and the ways in which these respective entities occupy and activate the environment and one another.

Julia Crockett & Group perform Office Space, an 8-person ensemble articulating a range of gestures of work and labor: filing, typing, speaking on the phone, gardening, giving birth, reaching orgasm, cooking, playing music and so on. The performers are installed throughout the apartment, intervening within the architecture and the domestic interior. Office Space calls attention to the dissolution of the workplace's specificity as a sited locale in contemporary society, highlighting gestures of labor as artifacts in the transition from old to new modalities of work and place. Office Space also extends concerns explored in Haeler Echo's first season, which centered on economies of performance. The audience is encouraged to move around the space for the first half of the performance.

The original score, by Alexis Georgopoulos, evokes the wide-eyed optimism conjured by an late 70s/early 80s advertising world focused on a utopic vision of digital convenience in the office space and beyond. "The future is here," it seemed to proclaim. "Computers are here to offer a new reality of ease and function ..." Charting a course from analog dial tones to algorithmic computer funk ... it reflects a vision of what might be called Globalism V1, taking influence from Germany, Japan, Central and West Africa along the way. The result is a whimsical, poignant, minimalistic reflection of digital work flow and global economies that points in a direction that ultimately never came to be.

The cocktail of the evening, designed by Arley Marks, is dispensed from a water cooler, as a playful wink to the now cliché physical icons of a typical office interior.

Félicia Atkinson's sound piece, A house / A dance / A poem, installed in the vocal booth, is a piece in three parts. Performers read a score that takes root in an architectural plan and a concrete poem featuring only the letter A.

Alina Tenser's shower curtain, a performance objected featured in her 2015 performance, Transaction Stall, delineates and describes two modes of allowance and access. Translucency to let the eye in meets material porousness, wherein elements on each side of the curtain circulate and share space.

Three complementary texts supplement the themes of the evening and of the season as a whole: excerpts from Beatriz Colomina's book Century of the Bed (Moderne Kunst Nürnberg, 2015) and Céline Condorelli's Support Structures (Sternberg Press, 2009); "Table Talk," an essay by David Leatherbarrow, included in Jamie Horwitz & Paulette Singley's Eating as Architecture (MIT Press, 2006).